Name: Protoman Reality
A proto-type of the newest generation that would be stronger then all the others, but it malifunctioned and luckily was incomplete.
Name: Tonrai
Vampire whom wishes the death of all human beings after he was humiliated by even his family. One of the most dangerous villains ever...
No picture located.
Name: Quint EXE
Being whom his society requires Aquaspark to achieve their goals... very good in bribery and decieving.
Name: Dark Falco
First major villain completely ignored and so he still seeks revenge...deep within Grey's body...
Name: El Diablo
Monster created to follow Dark Falco. Obeys his commands and causes mass destruction but once started cannot stop.

Name: Jetman
Member of The Anti-Hunters, official #1 enemies of the Proto-Hunters, a truly sly and powerful both mentally and physically member of their team. A difficult foe with which not even his friends dare mess with him seriously. A mind of evil but not purely dark.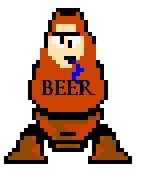 Name: Liquorman
An idiot who is an alchoholic. What more do you need?

Name: Toxicman
Leader of the Anti-Hunters, thinks of nothing but killing the Proto-Hunters and cruel to his team.

Name: Mechaman
The smart member of the team, the strongest and the one who pays for everything since he actually has a job down at Wal-Mart. Doesn't care about the team really and just wants to live a normal life, and actually has dreams of being a member of the community if it weren't for the fact that Jet's his brother...
Name: Jaden Yugi
A good guy just doing evil stuff simply to get back to duel academy.